Click here to go to UPSCALE home page.
Click here to go to I Year Lab home page.

You can jump directly to a section of this specification sheet by selecting an item below and clicking the left button.


---
High Impedance Voltmeter and Null Detector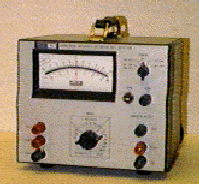 Manufacturer: Fluke
Model: 845AB




Description

A sensitive high impedance DC voltmeter and null detector.

---
Specifications
Input Range
1 µV-1000V DC
Accuracy
± (2%end scale + 1 µV)
Input Resistance
300 mV range and above:
100 M Ohms
100 mV range and below:
10 M Ohms
Maximum meter noise
1 µV range:
0.20 µV
3 µV range:
0.25 µV
Other ranges:
0.20 µV
Meter response time (to 90% of reading)
1 µV range:
5 seconds
3 µV range:
3 seconds
Other ranges:
1-1/2 seconds

Click here to go to the top of this page.


---
Operating Instructions
Preliminary
Turn Power to LINE OPR
Turn RANGE to 1000V
Adjust the mechnical zero adjustment screw for zero deflection.
Turn RANGE to 10 MICROVOLTS
Turn the OPR switch so the line on the knob points towards ZERO.
Adjust the ZERO control for an initial zero meter deflection.
Place the RANGE switch to 1 MICROVOLT.
Re-zero with the ZERO control.
Repeat steps 2 through 8 until the instrument is zeroed.
Operation as a voltmeter
Turn POWER to LINE OPR>
Turn OPR to OPR.
Turn RANGE to 1000 Volts.
Connect voltage to be measured to the INPUT terminal, and the common point of the voltage to the COMMON terminal.
Increase the sensitivity for maximum on-scale deflection.
Operation as a null detector: Consult the manufacturer's manual.



Note:

When measuring voltages in the microvolt range, use copper wire having low thermal emf's.



Click here to go to the top of this page.


---
keywords: voltmeter, voltage measurement device, voltage measurement device, electrical measurement device.

---

Document created June, 1996. Original author: David Harrison.